On the morning of April 22, the fifth culture salon of "Exploring the World·Take You to My Home"—"the Pearl of Africa-Uganda", hosted by the International Office, was held. More than 50 Chinese, international scholars and students gathered at Li Shen Xuan with the expectation to "travel" thousands of miles to explore "the Pearl of Africa"—Uganda.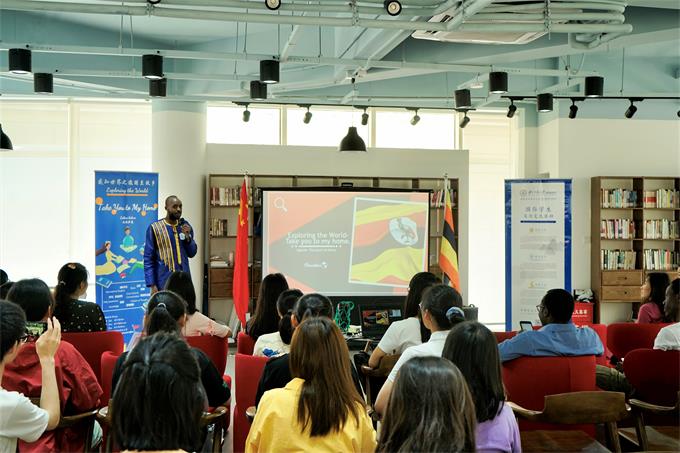 The presenter, Jotham Kihumuro, is a Ugandan student from the Belt and Road School. To begin with, he vigorously introduced the geographical location and weather of Uganda. Being reputed as "the Pearl of Africa", the East African country owns rich natural resources, which are attributed to its warm and humid tropical climate and advantaged geographical condition, and thus becomes a great destination for ecotourism enthusiasts. Next, he illustrated graphically the overview of politics and economy in Uganda. As one of the countries with the highest proportion of young people in the world, Uganda is full of vitality and potential for future development.
Jotham then vividly presented diverse traditional Ugandan cultures from the perspectives of wedding custom, delicacies and music to the audience. From his well-prepared wedding videos and photos, the audience learnt that weddings in Uganda are often extremely grand that guests wear colorful traditional costumes singing and dancing, and prepare all kinds of gifts for the newlyweds with the best blessings. He also passionately introduced featured Ugandan delicacies and music. Being fascinated by these lively videos and photos, the audience was deeply impressed by the richness and variety of Ugandan life and the simplicity and enthusiasm of the local people. Afterward, he demonstrated Ugandan traditional crafts-cups made of ox horn and cowhide shoes that the audiences all marveled at the exquisite production.
Next, Jotham explained the education system, development and education equality in Uganda. Thanks to the popularization of free primary and secondary education, Ugandan women now owns more opportunities to be educated. Sound educational and academic exchange and communication are established between Chinese and Ugandan Universities. The Confucius Institute at Makerere University, for example, is providing local students with programs or courses to learn Chinese language and culture.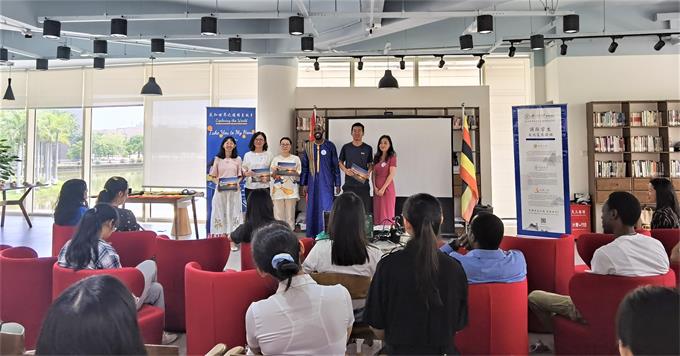 The final part of the salon was the "pet name game". Jotham prepared 11 groups of Ugandan pet name cards with a unique meaning correspondingly, such as Afiya standing for good health and Atwooki for warm heart. Every participant chose a card before Jotham randomly picked a few lucky audience and presented them beautiful Uganda travel brochures. In a burst of applause, the salon came to a successful end.