In the "Tian Jiabing Cup" National Finals for Full-time Masters of Education Discipline Teaching (English) professional teaching skills competition held at Henan Normal University from October 21 to 22, 2023, graduate students of Beijing Normal University (BNU) achieved outstanding results. Four students from BNU's School of Foreign Languages and Literatures(SFLL), YinoCai, Jiaqi Gu,Jianlong Li, and Mengqin Liu, all pursuing master's degrees in English education, participated in the national finals. Professors Qiang Wang and Xiaofang Qian from SFLL of BNU served as the students' guiding instructors, with Tsung-han Weng from BNU's College of Education for the Future as the team leader.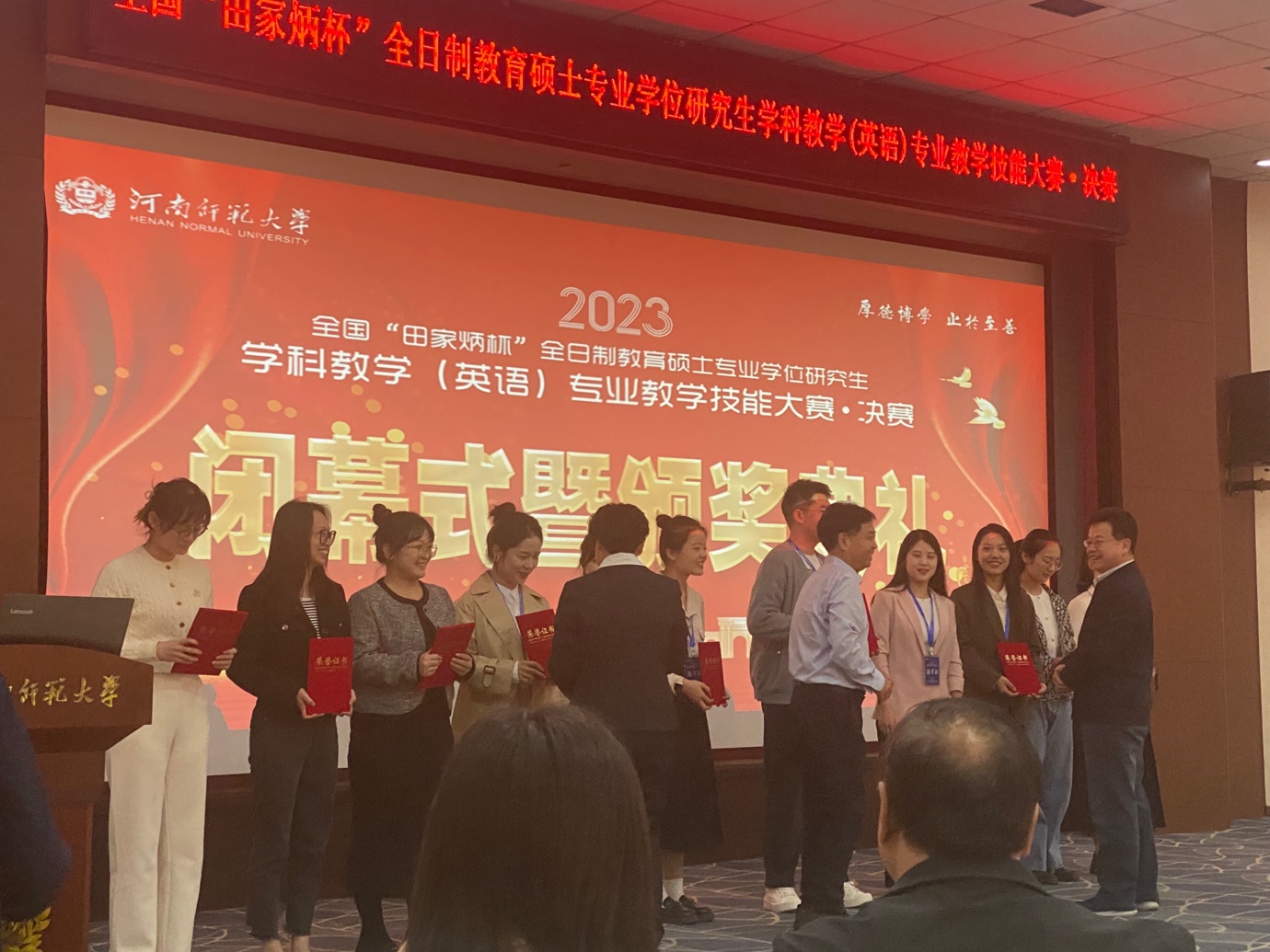 The award ceremony at the finals
The finals comprised of various segments, including on-the-spot topic drawing, timed preparation, simulated teaching, on-site defense, and immediate scoring, comprehensively assessing participants' expertise, educational proficiency, and adaptability. In the competition, the following students from BNU's SFLL achieved notable awards:
| | | |
| --- | --- | --- |
| Name | Class | 获奖名次 |
| Yinuo Cai | Graduate MEd Class of '22 | National Second Prize |
| Jianlong Li | Graduate MEd Class of '22 | National Second Prize |
| Jiaqi Gu | Graduate MEd Class of '22 | National Third Prize |
| Mengqin Liu | Graduate MEd Class of '22 | National Third Prize |
The four students from the SFLL demonstrated unwavering dedication in the current teaching skills competition. Prior to the competition, they actively collaborated, showcasing solid teaching fundamentals, and vibrant teaching styles during the event. As a result of their efforts, they achieved remarkable success by securing two second prizes and two third prizes.
Yino Cai (National Second Prize): "I am truly honored and grateful for receiving the National Second Prize in the 'Tian Jiabing Cup.' This journey has been a testament to hard work, collaboration, and the unwavering support of my mentors. The competition challenged me to push my boundaries and refine my teaching skills. Winning this award is not just a personal achievement but a reflection of the collective effort and guidance from my teachers and teammates. I am inspired to continue growing as an educator and contributing to the field of English teaching. Thank you for this incredible recognition."
Gu Jiaqi (National Third Prize): "Winning the National Third Prize in the 'Tian Jiabing Cup' is a humbling and exhilarating experience. This competition has been a challenging yet rewarding odyssey, shaping me into a more resilient and skilled educator. The support from my teachers and the synergy within our team created a conducive learning environment. This recognition motivates me to further refine my teaching methods and contribute meaningfully to English education. I extend my heartfelt appreciation to everyone who played a part in this accomplishment."
The attainment of these accolades in the competition fully reflects the positive outcomes of recent initiatives at our university, such as strengthening ethical guidance for teachers and enhancing teacher education reforms. The SFLL will continue to deepen teacher education reforms, vigorously promote innovative classroom teaching, sustain efforts to advance high-quality development in professional master's education, and comprehensively enhance the quality of talent cultivation in the school.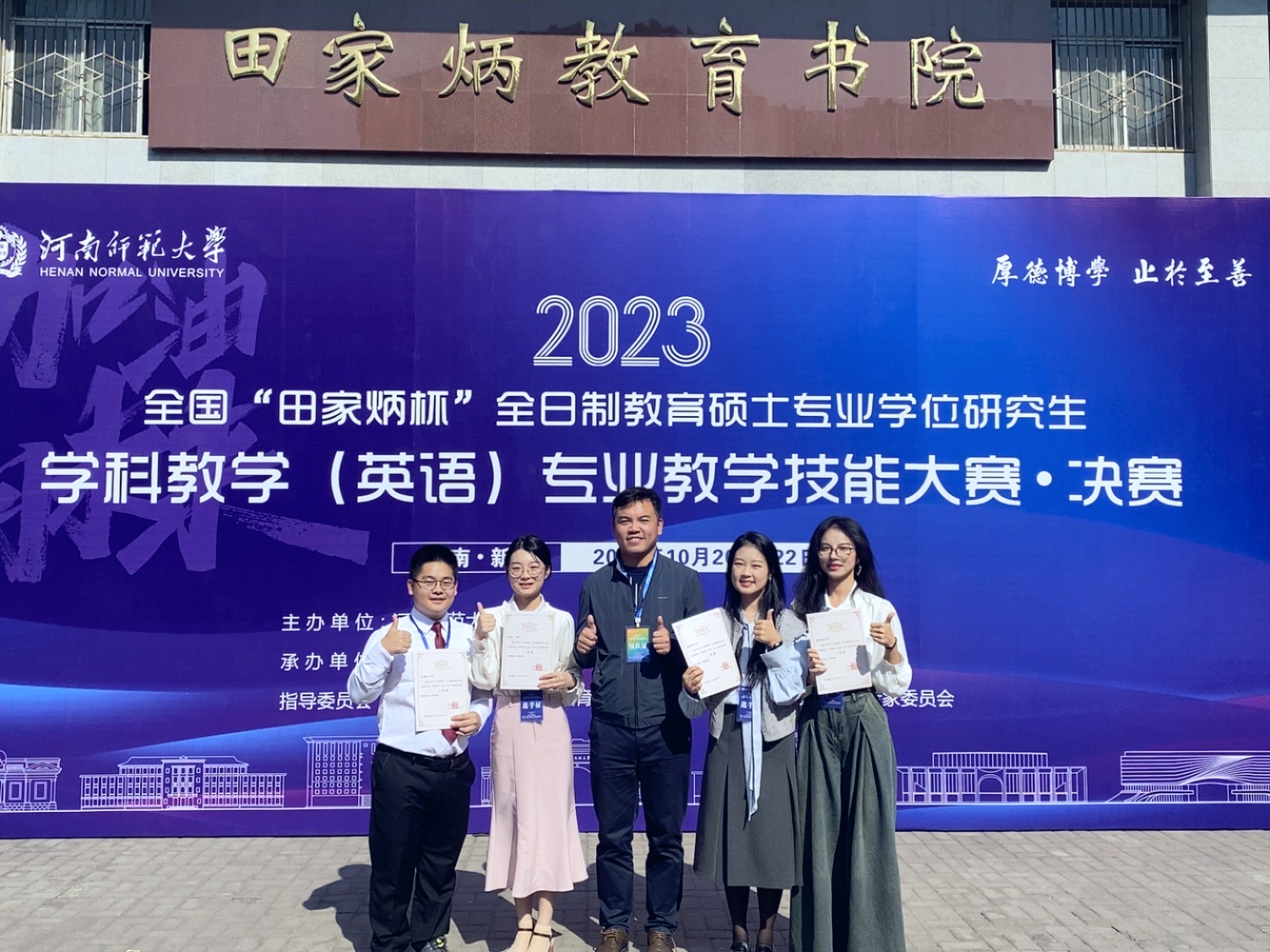 The team leader teacher and the four award-winning participants
The "Tian Jiabing Cup" is currently one of the highest-level, largest in scale, and most influential competitions for educational master's discipline skills in the country. A total of 463 students from 102 universities nationwide participated in this competition, with 230 contestants from 86 universities successfully advancing to the finals.