There will be series of online lectures about "Origins of Chinese and Mesopotamia History-Writing", to be held from Oct 16 to Oct 30, 2021. The lecture series aim to explore the similarities and differences in early history-writing practices of ancient China and Mesopotamia through free discussion. The second lecture series will be delivered by Prof. Tang Jigen from SUSTech and Dr. Odette Boivin from University of Münster on the evening of Oct.23. Dr. Chen Zhan from RCHC will host the lectures.
Please click the link to sign up and get the lecture materials: https://historywriting.org

The presentations will be given in English, but the slides will be bilingual, and automated Chinese translation will be available for those who prefer to follow the presentations in Chinese. The questions during the Q&A session will be accepted in both English and Chinese.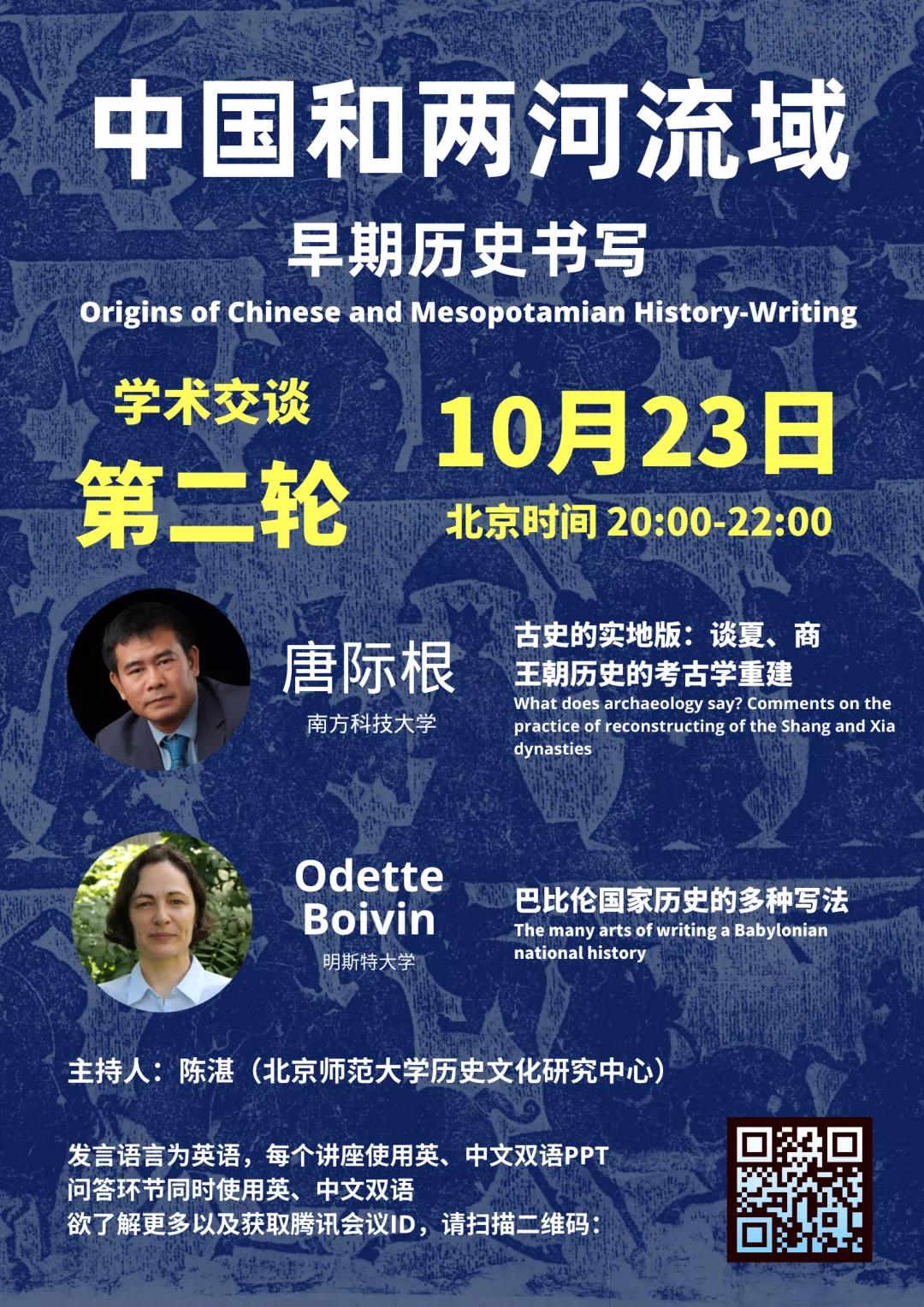 Title 1: What does archaeology say? Comments on the practice of reconstructing of the Shang and Xia dynasties
Speaker: Prof. Tang Jigen(SUSTech, Shenzhen)
Time: 8 pm, Saturday, Oct. 23, 2021
Tencent Meetings ID: given after signing up
Abstract: This talk focuses on the notions of historicity in ancient Chinese culture as reflected in the specific case of Sima Qian's Records of the Grand Historiographer. The way it narrates the events related to Xia and Shang dynasties has been confirmed in recent archaeology, which deserves special attention from scholars.
Biography of speaker: Prof. Jigen Tang is a Professor of Southern University of Science and Technology. He has served as a Researcher at Institute of Archaeology, Chinese Academy of Social Sciences and has directed the excavation at Yinxu in Anyang. Prof. Tang played a significant role in inscribing Yinxu in the UNESCO world cultural heritage list in 2006.
Title 2: The many arts of writing a Babylonian national history
Speaker: Dr. Odette Boivin (University of Münster)
Time: 9 pm, Saturday, Oct. 23, 2021
Tencent Meetings ID: given after signing up
Abstract: In the first half of the first millennium BCE, various traditions converged into the writing of Babylonian national histories, produced in and outside the official palace circles. Using three historiographic texts as case studies, this paper discusses the historical context and the milieus in which they were written, as well as the main topoi, differences, and commonalities between them.
Biography of speaker: Odette Boivin (Ph.D. in Assyriology, University of Toronto 2016)is a research fellow at the Institute of Assyriology and Near Eastern Archaeology of University of Münster, Germany. Her research interest lies on the language, script, society and history of ancient Mesopotamia. She published "The First Dynasty of the Sealand in Mesopotamia,Berlin: De Gruyter, 2018."
The lecture series are jointly held by The Research Centre for History and Culture, Beijing Normal University at Zhuhai, Society of Fellows in the Liberal Arts, SUSTech and SISU Institute for the Global History of Civilizations.