On October 30, the launching ceremony of French Village, the first project of Phoenix Language Village, was held in Nanxi Garden by Phoenix School of Beijing Normal University at Zhuhai (BNU Zhuhai). Dedicated to creating a physical space featuring French characteristics and integrating French learning and China-France cultural exchange, Phoenix School provides a visualized and immersive cultural experience to help expand students' international horizon and cultivate their global competence.

Ning Shaolin, Deputy Director of the Administrative Committee of BNU Zhuhai and Vice President of Beijing Normal University, Zhuhai (BNUZ), Wang Xingang, Principal of Jinfeng Primary School and Jinding Middle School, Andrew Vander Meulen, foreign Principal of Zhuhai International School, and Yin Jie, Chinese Principal of Zhuhai International School, together with other guests including leaders from all administrative departments, schools and colleges, representatives of teachers and students, attended the ceremony.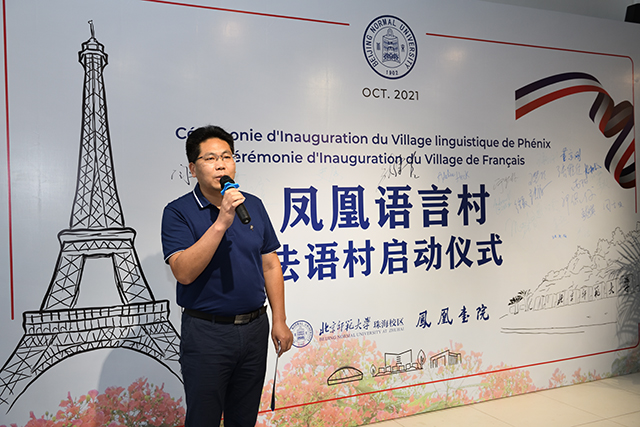 Ning Shaolin extended his warm congratulations on the establishment of French Village. He noted that Phoenix Language Village serves as a platform for language learning and cultural exchanges between Chinese and international teachers and students, marking the first step of Phoenix School in deepening the cultivation of the multilingual cultural platform on campus. He looked forward to the further construction and new development of Phoenix Language Village, which would provide strong backup in the cultivation of international talents on BNU Zhuhai campus.
Guo Kanjun, Director of International Office of BNU Zhuhai, delivered her congratulations in French and pointed out that the training of international talents was inseparable from an international language environment. Thus, the establishment of French Village would not only expand students' global vision, intercultural awareness and communication skills, but also contribute to the cultivation of future teachers with global competence.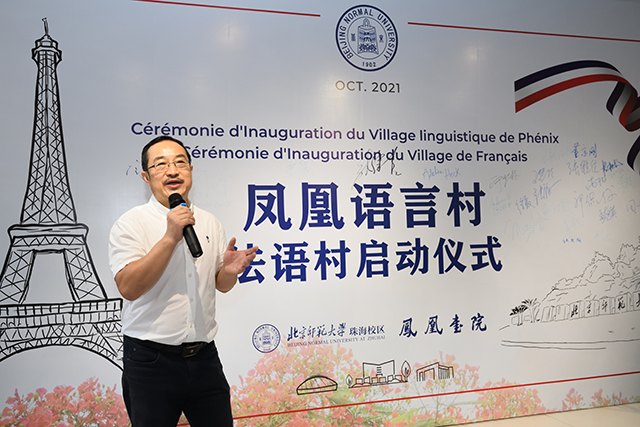 Sun Bo, Vice Provost of BNU Zhuhai and Deputy Dean of College of Education for the Future, pointed out that serving as a second classroom for extracurricular activities, Phoenix Language Village will provide complementary "cultivation-oriented education" for the "professional education" of the first classroom, jointly offering high-quality resources to the development of BNU Zhuhai campus, and the building of a national center for the training of excellent teachers, bearing far-reaching significance.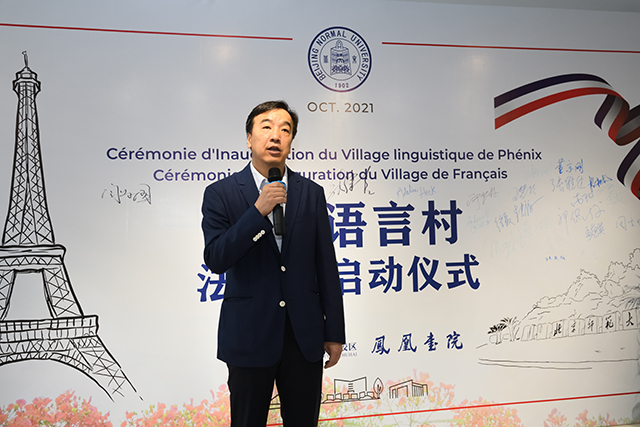 Wang Xingang noted that the launching of Phoenix Language Village would help build a bridge connecting universities, primary and secondary schools. He also hoped that the cooperation among universities, primary and secondary schools will be enhanced by promoting the construction of language-based optional courses, thus enabling primary and secondary schools to be the bases for cultivating international talents.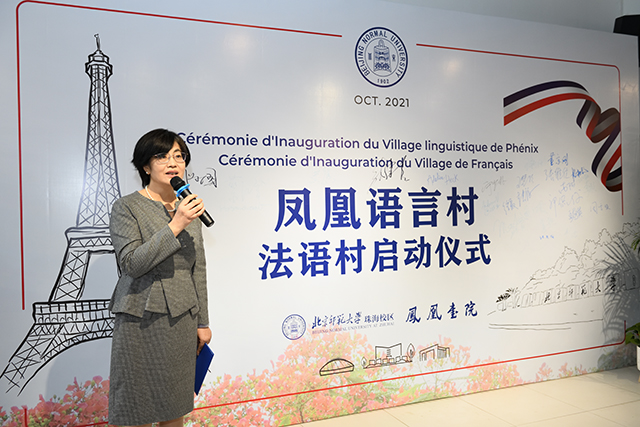 Chen Xi, Director of International Education of BNU Zhuhai and Dean of Phoenix School, made the final speech. She expressed her gratitude to all the units that had been supporting the construction of Phoenix Language Village, and pointed out that French village is considered to be a pilot ground exemplifying the school's construction principle "high standard, new mechanism, and internationalization". The village will provide an open platform for teachers and students to learn different languages and share cultures and arts to promote the internationalization of BNU Zhuhai.
Afterwards, the guests visited all functional areas of the venue and experienced featured activities of French Village, including audio-visual learning, book reading, French salon, coffee-making demonstration, French film screenings, etc. With melodious French music, mellow coffee aroma and authentic French desserts, French Village officially opened in the cordial conversations of guests.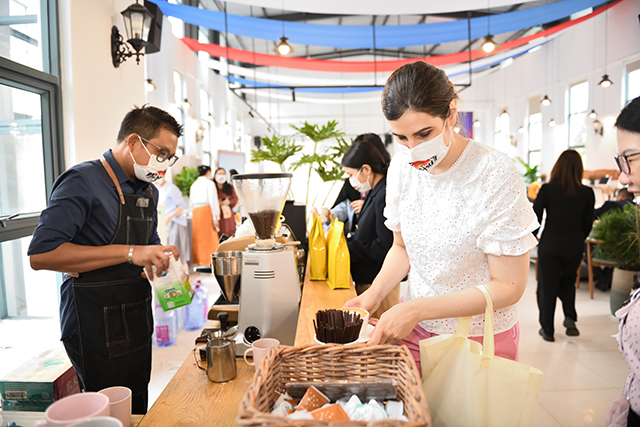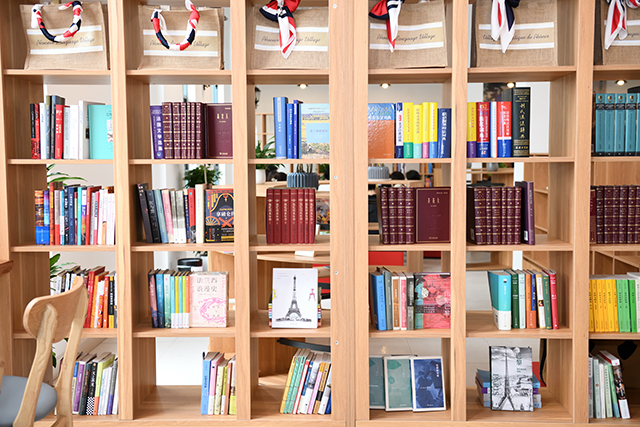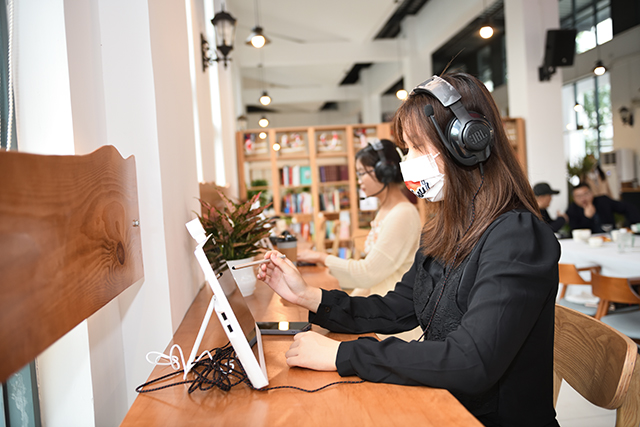 With the mission of promoting the development of international education on campus and cultivating high-level talents with a global perspective, Phoenix School strives to build Phoenix Language Village at BNU Zhuhai. French Village is the first language village established in the series of Phoenix Language Village project, which also includes the establishment of English, French, German, Portuguese, Spanish and Japanese and Arabic units. The village integrates all-round and multi-age teaching, development of ability, guidance for further studies, and cultural exchange,providing teachers and students with a place to achieve a better understanding of different cultures, histories, customs, art and foods. The construction of the village will be beneficial to promoting the multiculturalism on campus and building a platform of international influence for language learning and cultural transmission.