On the 37th Teachers' Day of China, the Publicity Department and the Ministry of Education jointly publicized the exemplary deeds of "The Most Beautiful Teacher 2021" on September 10, paying immense tribute to teachers and educators throughout China. The awarding ceremony of "Shining Name 2021 - The Most Beautiful Teacher" was broadcast on the night of September 10 on CCTV-1 and CCTV-10. Xiao Xiangrong, dean and professor of the School of Arts and Communication of Beijing Normal University, was awarded "The Most Beautiful Teacher", and "The Most Beautiful Teacher Team" was awarded to the Dianxi volunteer teacher team, which was coordinated by BNU.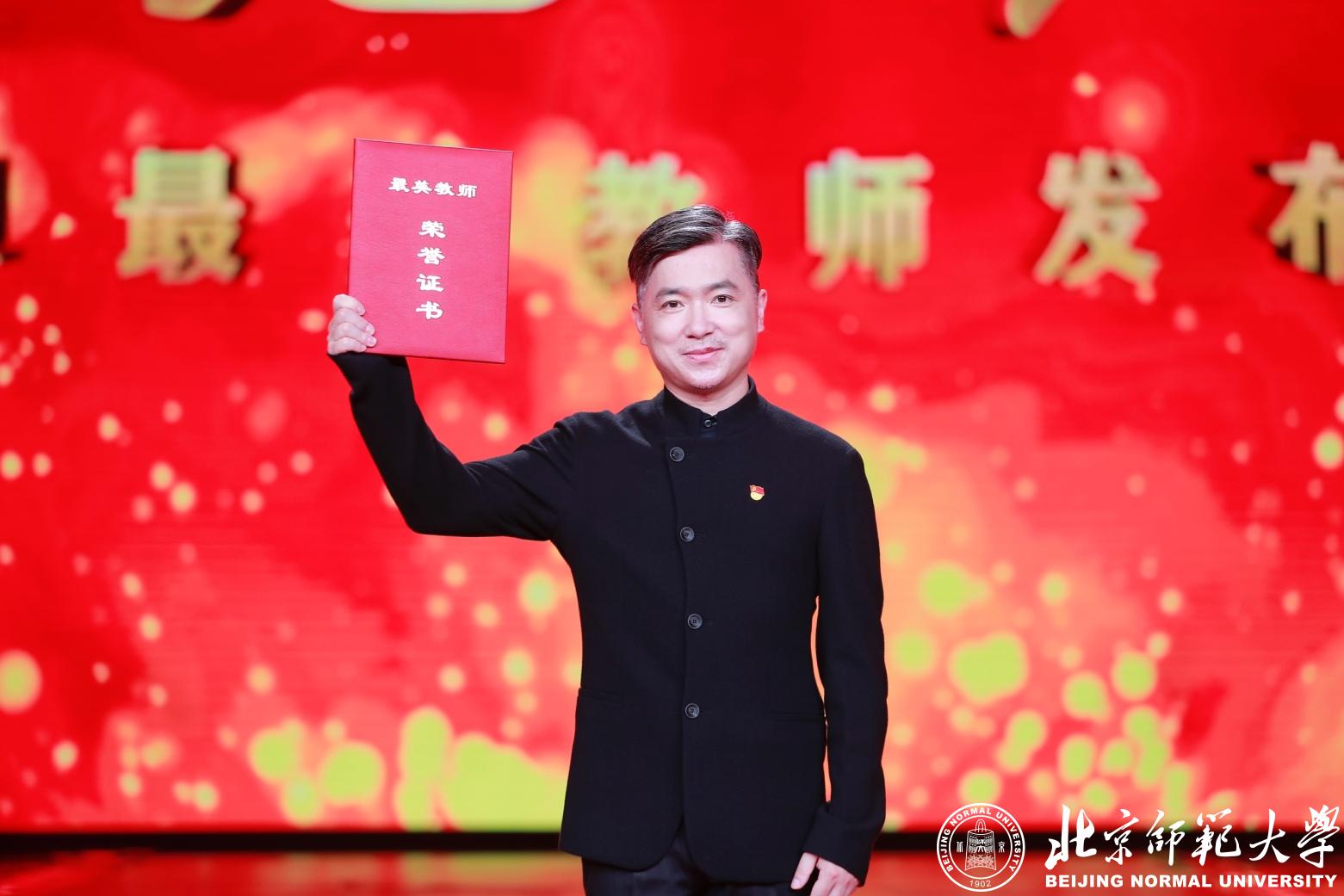 Xiao Xiangrong: Tell China's stories with art

In the past 20 years, Xiao Xiangrong has served as the key creator and director of major cultural activities of the Ministry of Education, the Ministry of Culture and the Publicity Department. He has also taught year-round. As a leading figure in the field of dancing, he created an open education concept, leading China's choreography onto the international stage. For serving national demands, he is committed in education innovation for the cultivation of creative talents, thus achieving great results in the frontline of academic research as well as its practice.

At the ceremony, Xiao talked about aesthetics and art education. "Today's art education," he said, "is no longer vocational education or skill training, but quality-oriented education for all." "It's not temporary, but lifelong." He is committed to building a colorful world that cherishes harmony in differences, where students treat each other with mutual respect and inclusiveness. "We should protect, inspire and release the beauty in their hearts, so that they could grow up healthily and freely." He called on all educationists of art to join hands and strive for beauty in a new era.
Dianxi volunteer teachers: illuminate the education in western Yunnan
In the fall semester of 2020 , guided by the principle of prioritizing education in an effort to eradicate poverty, BNU took the responsibility under leadership of the Ministry of Education and carried out an education assistance initiative to give more support to Nujiang Lisu Autonomous Prefecture of southwest China's Yunnan Province. In the 2020-2021 academic year, supported by BNU as well as many other institutions across China, more than 100 teachers from 26 provinces and autonomous regions, including Xinjiang and Tibet, taught there.

The volunteer teachers carried out educational support through demonstration lessons, paired assistance, joint teaching and research, double-teacher classes, individualized teaching, door-to-door education for the disabled, etc., promoting the overall development of local teachers. They also trekked in the mountains with local teachers for home visits and provided multiple resources for the local schools and even schools in those areas near Tibet, solving many practical problems. Their selfless devotion and strenuous efforts demonstrate the boundless love of teachers, playing an exemplary and leading role in the new era.