On the morning of October 30th, the first culture salon " Exploring the World·Take You to My Home-Discovering Pakistan " was held. Invited guests, teachers, Chinese students and international students gathered together to enjoy the feast of exotic cultures.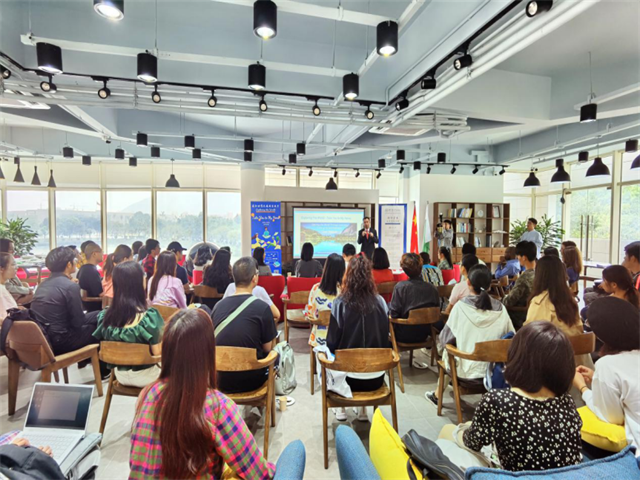 The cultural salon was shared by Imran, a Pakistani student at the Belt and Road School (BRS). Imran began by greeting in standard spoken Chinese, which immediately received applause from the audience. He then presented a video about Pakistan produced by a travel vlogger, which not only comprehensively introduced the magnificent natural landscape and diverse tourism resources, rich culture and art, long history and civilization, astonishing food and cuisine, but also displayed the huge development potential of an ancient civilization which is open and inclusive, fascinating and unforgettable.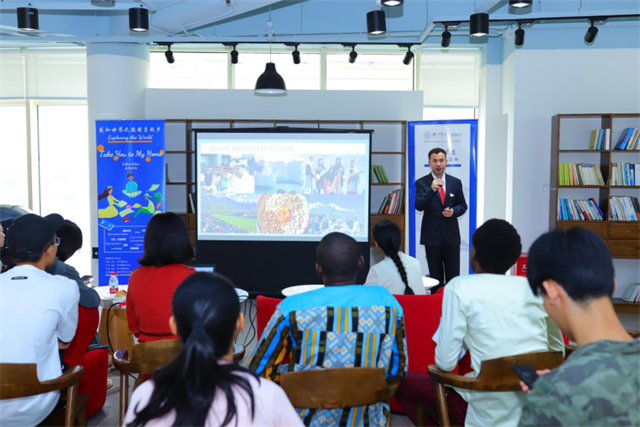 Imran led the audience on a journey to the discovery of Pakistan. He introduced Pakistan from aspects of history, society, economy, geographical characteristics, culture and education with a wonderful presentation, which impressed the viewers. Imran focused more specifically on his hometown Gilgit Baltistan. The spectacular glaciers, mountains and lakes, the hospitality of its local people and the harmonious coexistence of its diverse cultures made it an attractive tourist destination. Moreover, being adjacent to China, it has a long-established tradition of close cultural exchanges with China.
Imran then showed a video of a meeting between the leaders of China and Pakistan, expressing his confidence on China-Pakistan long-lasting friendship. China-Pakistan friendship is based on mutual trust, understanding and a shared vision of peace and development. Since the agreement on the establishment of diplomatic relations was formally signed in 1951, China and Pakistan have maintained good relationships. During this period, many achievements have been made in the communication and exchanges between the two countries, resulting in the unique friendship between the two countries, which has gradually turned into a strategic partnership of cooperation, an economic development alliance and an intimate relationship between the two sides.
He concluded with a question and answer session where most of the audience happily participated and won several prizes. The room was filled with happy faces. Finally, the salon came to an end with an enjoying and free conversation between Chinese and International students.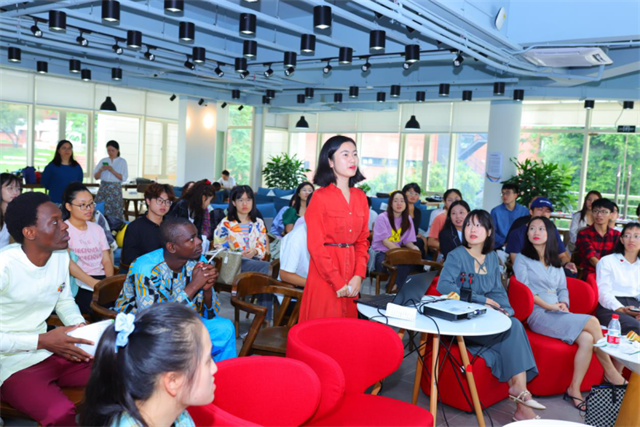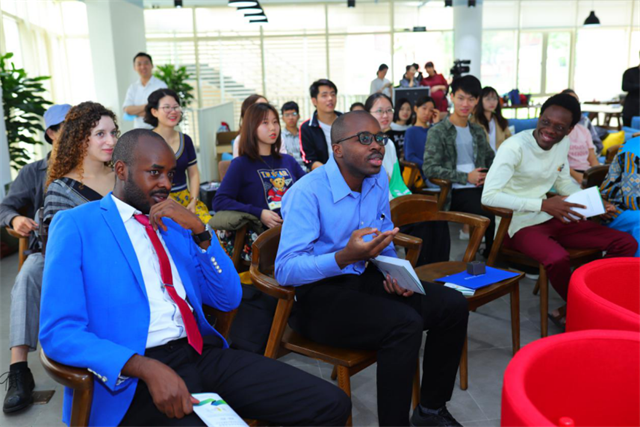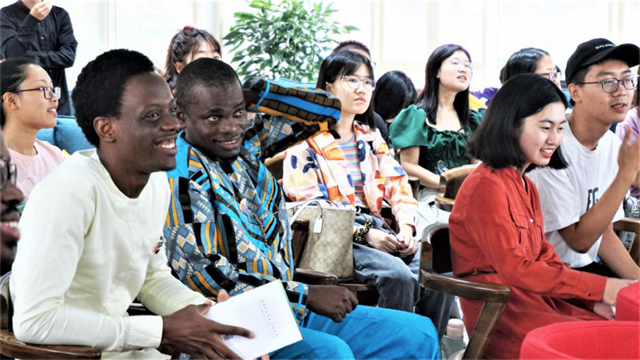 Reviews from participants

" It was my pleasure to participate in "Exploring the world·Take You to My Home" culture salon. Imran introduced his country-Islamic Republic of Pakistan to us. We easily learnt about the beautiful scenery, delicious food and many other aspects. Their culture is fascinating and their tourism is developing prosperously, all of which completely attracts me. This activity could make us learn more about each other. "

—— Jiang Hongyu
"Today, Imran introduced his hometown Pakistan to us in all aspects through his wonderful speech, abundant pictures and videos. I realized that Pakistan not only has a long history, but also has diverse cultures and charming scenery. If I have the chance, I would really want to travel to Pakistan and experience the passion of Pakistani people!"
——Wang Yue
"It was a great pleasure to witness the Fenghuang Ambassador Appointment Ceremony. And at the same time the education about Pakistan by Imran made me know more about its history, culture, geography, etc. Appealed by a lot of beautiful landscapes there, I also can't wait to travel to Pakistan By the way, the snack during the tea break tasted very good."
——Wang Xun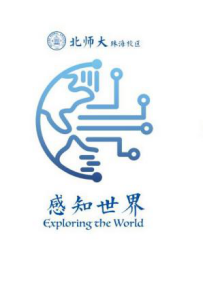 "Exploring the World·Take You to My home" culture salon is a series activity organized by International Office of BNU Zhuhai to promote the interaction and cultural exchange between Chinese students and international students, and to cultivate students' ability and consciousness to understand and appreciate different cultures. On the next two months of this semester, the discovery trips of Italy and Ghana will also be launched.